Summary
A crude oil rally above the $40 per barrel level is unsustainable in light of decelerating U.S. and global economic growth.
Crude prices previously showed a direct correlation with the 10Y/2Y yield spread, but began to decouple on speculation of an OPEC deal.
Unless crude prices stay decoupled from the yield spread, the price of crude oil is at risk of pulling back.
The price of crude oil has been on a sharp rebound since plunging to the February 11th low of $26.05 per barrel, or the "Janet Yellen low", when Federal Reserve Chair Janet Yellen told the U.S. Congress on the second day of her two-day semiannual monetary policy report that overseas weakness and market distress could threaten the Fed's plans to raise the rate, but didn't explicitly mention any delays to interest rate hikes. The crude oil price now bumps into major head resistances, where the breakout point of the long-term downtrend is about $40 per barrel. In our viewpoint, a crude oil rally above this level is unsustainable in light of decelerating U.S. and global economic growth.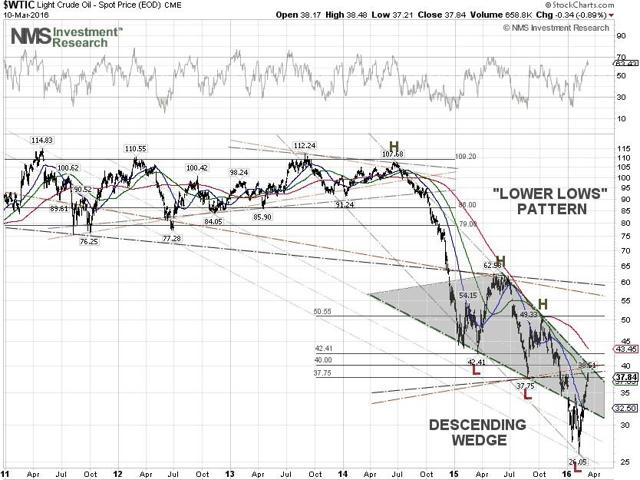 Oil Prices to Stay Low – Jeffrey Currie, Goldman Sachs' head of commodities research, issued a report on Tuesday saying that the recent rally in commodities is just a "mirage", "premature" and "not sustainable," according to MarketWatch. As Mr. Currie put it in his report,
Energy needs lower prices to maintain financial stress to finish the rebalancing process; otherwise, an oil price rally will prove self-defeating as it did last spring,
A dark cloud over the U.S. and global economies is on the horizon, as the China economic slowdown continues and some hawkish Fed members seem to be maintaining their plans for aggressive rate hikes. According to Bloomberg, Willem Buiter, Chief Economist at Citigroup, sent out a note to their clients late last month to get ready for a global recession.
The most recent deterioration in the global outlook is due to a moderate worsening in the prospects for the advanced economies, a large increase in the uncertainty about the advanced economies' outlook (notably for the U.S.) and a tightening in financial conditions everywhere," said Buiter in his note.
Lower demand for crude oil during the next few years prompted the U.S. Energy Information Administration, or EIA, on Tuesday to trim 2016 U.S. oil demand growth by 80,000 barrels per day, or bpd, from 110,000 bpd, and cut its 2016 worldwide demand growth forecast by 90,000 bpd to 1.15 million bpd. The EIA now expects WTI crude oil prices to average $34.04 a barrel in 2016, and $40.09 a barrel in 2017.
Faltering U.S. Economy – There are warning signs that something is wrong with the U.S. service sector, accounting for nearly 80% of the private sector gross domestic product, or GDP. A preliminary reading of the Markit Economics monthly flash services purchasing manager's index, or PMI, for February, came in at 49.8, missing the estimate of 53.5 by a wide margin. A reading below 50 means the service sector of the U.S. economy is in contraction.
The recent report, "Faltering U.S. Economy Leads Global Slowdown" by Chris Williamson, Chief Economist at Markit, states that,
Global economic growth slowed to near-stagnation in February, according to PMI data. … Weakness was broad-based across both the developed and emerging markets. … U.S. PMI series for both manufacturing and services fell sharply again in February. Bad weather was partly to blame, but weaker underlying demand meant February was the second-worst month since the global financial crisis.
The Institute for Supply Management, or ISM, said in early March that itsindex of non-manufacturing activity fell to 53.4% in February, from 53.5% the previous month. The figure, which was barely above expectations of 53.2% from a Reuters poll of 81 economists, corresponds to a 1.8% increase in real gross GDP on an annualized basis, according to the ISM. A reading above 50% indicates the non-manufacturing sector economy is generally expanding. The ISM index has been on a downtrend since July 2015, when the reading was 59.6%.
0 views