Summary
Since mid-2014, E&P stocks have suffered extreme punishment in the market.
Many companies' prices make them penny stocks, and many more have debt levels which make their equity contribution minimal.
The author identifies a group of 33 E&P stocks which the market appears to believe are the "Bottom of the Barrel."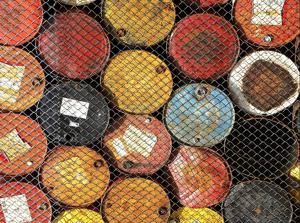 This is the kind of club to which no E&P company wants to belong, but this article will introduce you to those companies the market has punished the most over the past 1-2 years. I call it the "Bottom of the Barrel" (BOTB) Club.
There are 33 members in my BOTB Club: Abraxas Petroleum Corp. (NASDAQ:AXAS), Approach Resources Inc. (NASDAQ:AREX), Atlas Resource Partners, LP (NYSE:ARP), Bill Barrett Corp. (NYSE:BBG), Breitburn Energy Partners (NASDAQ:BBEP), Comstock Resources, Inc. (NYSE:CRK), EV Energy (NASDAQ:EVEP), EXCO Resources, Inc. (NYSE:XCO), Eclipse Resources (NYSE:ECR), Emerald Oil Inc. (NYSEMKT:EOX), Energy XXI (NASDAQ:EXXI), Gastar Exploration, Inc. (NYSEMKT:GST), Goodrich Petroleum Corp. (NYSE:GDP), Halcon Resources Corp. (NYSE:HK), Jones Energy, Inc. (NYSE:JONE), Legacy Reserves LP (NASDAQ:LGCY), Linn Energy, LLC (NASDAQ:LINE), Memorial Production Partners (NASDAQ:MEMP), Mid-Con Energy Partners (NASDAQ:MCEP), MidStates Petroleum (NYSE:MPO), Northern Oil & Gas, Inc. (NYSEMKT:NOG), Penn Virginia Corp. (NYSE:PVA), PetroQuest Energy Inc. (NYSE:PQ), Resolute Energy Corporation (NYSE:REN), Rex Energy Corporation (NASDAQ:REXX), SandRidge Energy Inc. (NYSE:SD), Sanchez Energy Corporation (NYSE:SN), Stone Energy Corp. (NYSE:SGY), Triangle Petroleum Corp. (NYSEMKT:TPLM), Ultra Petroleum Corp. (NYSE:UPL), Vanguard Natural Resources, LLC (NASDAQ:VNR) and W&T Offshore, Inc. (NYSE:WTI).
This concept started with the idea that the companies that had been punished the most might include some that did not deserve to be there. I began with companies whose market price was less than $5, which is the SEC's new definition of what constitutes a "penny stock."
John Templeton famously bought $100 of every stock trading below $1 in 1939 after the Great Depression, turning $10,000 into $40,000 in 4 years despite the fact that over 30% of the companies whose stock he bought went bankrupt. More recent themes might be "looking for ponies amidst the manure," "looking for the babies thrown out with the bathwater," "looking for oversold stocks," etc. There is no guarantee that any of these companies will qualify as such in hindsight, much less survive in their current form.
While I don't predict a repeat of Templeton's performance here, and frankly believe there are factors that make E&P different from the market as a whole, I nevertheless thought it might be interesting to set up such a group of companies and follow them as a group going forward. Whether I do anything with the list other than publish it here so that readers can set up their own watchlist remains to be seen, but if nothing else, the article may provide food for thought.
Many of the companies on this list qualify as penny stocks, some even on the "old" definition of those, i.e., < $1. Many of them are undergoing reorganizations of one sort of another, as I have detailed in some of my previous articles. These companies may serve to provide ideas for my future articles if enough interest is shown.
The table below sets out for each company their current common stock market capitalization at current prices, with current share counts. Adjusted debt numbers, which include preferred stocks at face value and minority/noncontrolling interests, are added in (from 6/30 data, the most recent I have) to obtain a rough estimate of Enterprise Value (assuming all other items are immaterial to the result).
With that, I also show the stock price declines for each stock/unit in the BOTB Club, first taken from 6/30/14. It was in that month that most E&P stocks hit their highs and began a sell­off that has now lasted almost 11⁄2 years. Note that OPEC's surprising decision to reject production cuts in November 2014 was almost 6 months after the sell­off in E&P stocks began. Also included are data that show stock returns YTD in 2015.
Finally, because SA commentators often talk about the interests of short sellers in various stocks and/or scenarios, I have included the most recent data on shares sold short, what % of the float is sold short, and the "short interest ratio" (the number of days it would take shorts to cover at the most recent volume). Sometimes, reversals in stock prices can generate "short squeezes" where shorts scramble to cover their positions.
0 views