Summary
I computed Altman's Z2-Score for XOM, CVX, CHK, DNR, CLR, DVN, EOG, NBL, OAS, OXY, PXD, RRC, NOG, SWN, SN, WLL, FANG, MRD, APA, and APC.
Altman's Z2-Score indicated half of the companies I profiled have a high probability of going bankrupt.
I believe many investors have suffered from cognitive dissonance as it relates to the viability of many E&P companies. I think using Altman's Z2-Score can help reduce cognitive dissonance.
My goal with this article was to create a loop through which investors could see the level of stress within the energy sector, without any cognitive biases. After looking at several options I arrived at the conclusion that the Altman Z-Score bankruptcy indicator was the best indicator for me to gauge the level of stress within the industry since the Z-Score is a purely mathematical formula that will not be heavily affected by cognitive biases. For the last 12 months I have been slightly bearish on the energy sector. I believed there would be many bankruptcies in the small-cap E&P sector and possibly 2-3 bankruptcies in the mid-cap E&P sector. However, after conducting my research I was genuinely surprised with the amount of mid-sized companies showing signs of distress.
Obviously, one indicator alone should not be used by investors to make buy and sell decisions, but I do believe the information provided by the Altman Z-Score should be taken into consideration as part of your fundamental analysis. Below, I have included the Z-Scores for 20 E&P companies with market caps between $100MM and $330,000MM, background information on the Altman Z-Score, and the risks and deficiencies associated with the Altman Z-Score.
Altman Z-Score Background
In 1966, NYU Professor of Finance Edward I. Altman selected 66 corporations, 33 of which had gone bankrupt and 33 randomly-chosen solvent companies. Professor Altman's goal was to find a combination of financial ratios that could predict bankruptcy. In 1968 Altman published the Z-Score formula for predicting bankruptcy. In this article, I will be applying a variation of the Z-Score formula commonly referred to as the Z2-Score. The original Z-Score model was based on publicly traded manufacturing companies while the Z2-Score that I will be using can be used for any type of company. The Altman Z2 formula is
Z2=6.56*(X1)+3.26*(X2)+6.72*(X3)+1.05*(X4A)
(X1)= Working Capital/Total Assets
(X2)= Retained Earnings/Total Assets
(X3)= EBIT/Total Assets
(X4A)= Net Worth/Total Liabilities
A Z2 score below 1.1 indicates bankruptcy and a Z2 score above 2.6 indicates solvency. Z2 scores between 1.1 and 2.6 are considered a gray area with significant bankruptcy risk, but not a definite sign of bankruptcy.
In subsequent tests over a 30-year-period, Altman found the original Z-Score model to be 80-90% accurate in predicting bankruptcy 1 year prior to the event. However, Altman has questioned the accuracy of the Z-Score and Z-Score variations when applied to non-manufacturing companies.
Z2-Scores Results
The table below contains Altman Z2-Scores for Exxon Mobil Corporation (NYSE:XOM), Chevron Corporation (NYSE:CVX), Chesapeake Energy Corporation (NYSE:CHK), Denbury Resources Inc. (NYSE:DNR), Continental Resources, Inc. (NYSE:CLR), Devon Energy Corp (NYSE:DVN), EOG Resources Inc (NYSE:EOG), Noble Energy, Inc. (NYSE:NBL), Oasis Petroleum Inc. (NYSE:OAS), Occidental Petroleum Corporation (NYSE:OXY), Pioneer Natural Resources (NYSE:PXD), Range Resources Corp. (NYSE:RRC), Northern Oil & Gas, Inc. (NYSEMKT:NOG), Southwestern Energy Company (NYSE:SWN), Sanchez Energy Corp (NYSE:SN), Whiting Petroleum Corp (NYSE:WLL), Diamondback Energy Inc. (NASDAQ:FANG), Memorial Resources Development Corp (NASDAQ:MRD), Apache Corporation (NYSE:APA) and Anadarko Petroleum Corporation (NYSE:APC). I calculated the Z2 scores below based on Q3 2015 financials (X3 was computed using annualized Q3 EBIT with adjustments for hedges and non-reoccurring charges).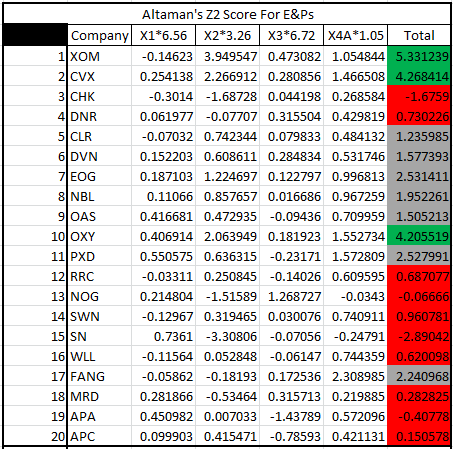 As you can see in the chart above only the 3 largest, least-levered companies had a Z2-Score above 2.6. Additionally, 10/20 of the companies listed had a Z-Score that indicated a high risk of bankruptcy. Surprisingly, even large, well-respected companies such as Apache Corporation and Anadarko Petroleum Corporation have Z2-Scores indicating a high risk of bankruptcy.
I thought it would be interesting to see the relationship between bond prices and Z2-Scores. Essentially, I wanted to compare market-based bankruptcy risk to mathematics-based bankruptcy risk. The table below shows a comparison between the Z2-Scores and bond prices of the E&P companies discussed previously. (The bond prices below were based on 01/25/2016 closing prices. I used the lowest-priced bond issue for each of the companies listed.)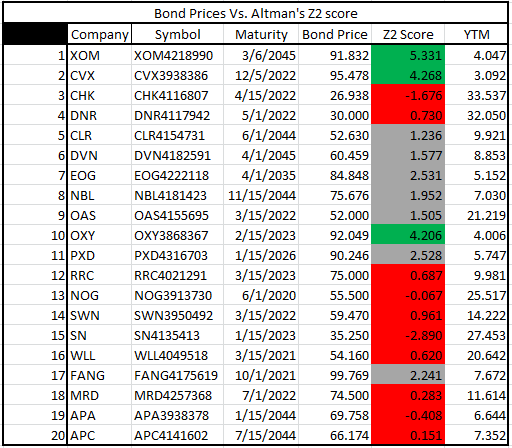 Generally speaking, bonds with prices below 70 cents on the dollar are considered distressed. Interestingly, 8/10 companies with Z2-Scores below 1.1 have their debt trading below 70 cents on the dollar while none of the companies with Z2-Scores above 2.6 have their debt trading below 70 cents on the dollar. Alternatively, debt trading 700+ basis points above the risk-free rate is also considered distressed. In this case 8/10 stocks with Z2-Scores below 1.1 show YTMs 700 basis points above the risk-free rate (2.1%). Additionally, the three companies with the highest Z2-Scores have the lowest yielding debt. Clearly there is a strong relationship between Z2-Scores and bond prices.
Risks and Deficiencies of Altman's Z2-Score.
Altman's Z2-Scores were not designed to measure risk in the E&P industry meaning that low Z2-Scores might not be indicative of bankruptcy risk in the E&P industry.
Altman's Z2-Score does not take into account the possibility of improvements in commodity prices.
Altman's Z2-Score does not take into account overstated assets. I believe the balance sheets of the companies I used in this article have oil priced above $50/Bbl and natural gas priced above $2.61/MM Btu (previousarticle explained this concept) which could lead to further deterioration in Z2-Scores.
Altman's Z2-Score does not predict when a company will go bankrupt only if it will go bankrupt.
Altman's Z2-Score cannot measure the quality of a company's management team. A strong management team can be a deciding factor in a company's survival.
Altman's Z2-Score is a purely mathematical formula and does not account for differences in accounting practices.
Altman's Z2-Score is not meant to predict stock price performance.
Conclusion
Ultimately, the Z-Score has many holes and cannot be singularly relied on as a predictor of bankruptcy risk or future stock price performance. However, I think the indicator is still very useful because it helps investors look at companies without cognitive biases. Before I started my research I was fairly negative on the E&P space; however, I was honestly surprised to find out half of my sample set had Z2-Scores that indicated a high risk of bankruptcy. It is possible I was not being bearish enough on the E&P industry due to my own cognitive biases.
Additionally, bond prices seem to be positively correlated with Z2-Scores, which further validates the Z2-Score's ability to gauge levels of distress. Lastly, the purpose of this article is not to provide a list of companies I believe will go bankrupt, but rather provide investors another tool which can be used when evaluating investment decisions.
0 views