The natural gas futures contract that trades on the New York Mercantile Exchange (NYMEX) division of the Chicago Mercantile Exchange is a reflection of the price of the energy commodity for delivery at Erath, Louisiana. Natural gas trades at different prices all over the United States, but the NYMEX price is the benchmark for consumers, producers, and speculators in the U.S. and around the world. The natural gas futures market started trading in the early 1990s and has established itself as one of the most volatile and liquidly traded commodities. When it comes to volume and open interest, natural gas is second only to crude oil. When it comes to price variance over past years, natural gas stands alone.
The price range in the natural gas futures market since 1990 has been from $1.02 on the downside to $15.65 per MMBtu on the upside. In March 2016, natural gas traded down to a low of $1.611 per MMBtu, and since then, it has recovered. Natural gas has been trading around the $3 level as of the end of last week after hitting a high of $3.994; the peak since 2014, in December 2016 and right now, I believe that any price under $3 will be a buying opportunity for the weeks and months ahead.
Price weakness over the coming weeks and months will be a buying opportunity
Natural gas closed last Friday at under the $3 level on the active month September NYMEX futures contract.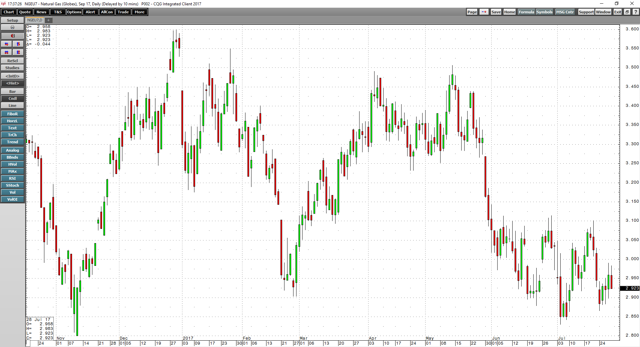 Source: CQG
As the daily chart shows, the September futures declined from highs of $3.5060 per MMBtu on May 12 to lows of $2.83 on July 5 and were trading closer to the lows than the highs on Friday, July 28, at $2.923 per MMBtu. There are four compelling reasons why I believe that natural gas is a raging buy on any price weakness over coming weeks. As we are now in the heart of the hurricane season, there is always a chance that a storm that sets its sites on the Gulf of Mexico could lift the price of the energy commodity. I am bullish for the coming winter season and am not counting on a storm but would not mind having a small core long position if one wanders into the Gulf over coming weeks. The bottom line when it comes to natural gas is that the energy commodity has a lot going for it these days as inventories, LNG, technical factors, and the trading history of natural gas all support higher prices in the months ahead.
0 views