Summary
Petro River Oil Corp. is focused on lower-risk conventional drilling in Osage County, Oklahoma, that does not require costly horizontal drilling or hydraulic fracturing techniques.
The company is building a portfolio of assets that can withstand swings in commodity prices and generate returns regardless of the current macro environment.
Its 20% ownership in Horizon Energy Partners provides capital-light exposure to higher-risk, higher-reward projects and additional development drilling projects in proven regions of the U.S.
The Investment Thesis
Petro River Oil Corp. (OTCPK:PTRC) is a contrarian vehicle to invest in the oil & gas industry. PTRC's Executive Chairman, Scot Cohen, believes commodity prices will continue to be volatile, so they want to build the company to withstand the swings in commodity prices and be successful, regardless of whether oil is selling at $10 or $100 per barrel.
To reduce risk, the company is taking minority interests, forming joint ventures and farming into conventional plays that have low drilling and completion costs, where new advanced 3D seismic can be effectively utilized to understand exploration prospects.
The Assets
This story really has two chapters. The first is about lower-risk conventional drilling in a proven hydrocarbon-producing region. Petro River has a 50% ownership in 106,000 gross continuous acres in Osage County, Oklahoma. The company plans to participate in five vertical wells in 2016. Estimated gross drilling and completion costs are $300,000 per well. Petro River's management team hopes to double the typical EURs from nearby acreage of 30,000-40,000 barrels through 3D seismic targeting of stacked pay zones consisting of Pennsylvanian Sands and Mississippian Chat and Lime sections. The Burbank field, which borders Pearsonia on the west, was first drilled in 1920, and is estimated to have produced more than 400 million barrels of oil. As a reminder, these wells do not require costly horizontal drilling or hydraulic fracturing techniques. Doing the simple math, the five gross wells will cost $1.5 million ($750,000 net to PTRC's 50% ownership). In a recentpresentation at EnerCom's The Oil & Services Conference, Cohen said this project was fully funded for 2016. If it is successful at doubling the typical EUR to 70,000 barrels of oil per well, the company could add 350,000 barrels of oil resources for $750,000, or $2.14 per barrel. Even in a $30 per barrel world, this type of development costs leaves plenty of cushion for acquisition of new seismic and operating costs to generate a return on investment.
The second part of this story is where the company strays a bit from the traditional blocking and tackling of the conventional oil story, but is that part that most investors are glomming onto. Following its acquisition of Horizon I Investments, LLC, anticipated to close this month, Petro River will hold a 20% equity interest in Horizon Energy Partners, LLC.
Horizon is an oil & gas exploration and development company with a portfolio of U.S. and international assets. Other equity owners in the company are seasoned oil & gas industry professionals, including several former senior oil industry executives who have run both major and large independent oil & gas companies (including Royal Dutch Shell (RDS.A, RDS.B, Texaco, Burlington Resources and Pogo Producing), and have advised large energy-focused private equity and hedge funds (including KKR, Riverstone Holdings, Silver Point Capital and the Carlyle Group). This small group of well-funded and highly experienced oil finders run the operations at Horizon.
Take a look for yourself below. As you can see, the team at Horizon has put together quite the array of near- and long-term exploration and development opportunities providing Petro River, after closing, exposure to multiple opportunities for production and reserve growth. Most match PTRC's low-risk conventional model, and some are much higher-risk and higher-reward.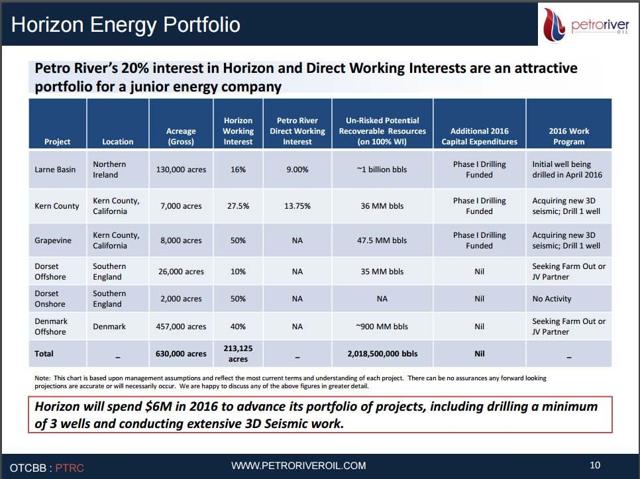 In addition to the chart above, we recommend reading the most recent news about the company's Kern County, California, assets in the San Juaquin Basin, where it has working relationships with an E&P company with deep ties in the region, and acquired a 13.75% working interest in oil & gas leases in Southern Kern County, California. Both of these recent updates are consistent with PTRC's strategy of taking minority interests, forming joint ventures and farming into conventional plays that have low drilling and completion costs, and where advanced 3D seismic has not been effectively utilized.
The Near-Term Catalyst
Because of the relationship with Horizon, Petro River is able to manage its exposure to exploration risk and work to increase its ownership in direct projects based at the Petro River level, if the data or results fit the company's return profile. Larne Basin of Northern Ireland is an example of this. In 2011 and 2012, new proprietary 2-D seismic data indicated numerous potential hydrocarbon traps which had not originally been seen. Many investors are watching this stock symbol because of the upcoming results from a new vertical test well in the Larne Basin of Northern Ireland. Upon closing in April, Petro River holds a 9% direct interest and a 3.2% indirect interest in the well. This will be Northern Ireland's first exploration prospect in 45 years, and the results are expected in May 2016.
As referenced in a recent Oil & Gas Journal article, because of 20th century political issues in Northern Ireland, the Larne Basin remained the only Carboniferous basin in Europe that is essentially untested for hydrocarbons. In 1971, Shell Oil Company drilled the only petroleum exploration well within the basin. Shell's well was drilled off-structure without the use of seismic, but it encountered two reservoir sands with porosities greater than 20% – one in the Triassic and the other in the Permian.
Petro River's science team said interpretation of recent 2D seismic data "shows structural styles similar to nearby basins such as the East Irish Sea, which has produced more than 220 MMBO and 4 Tcf of gas, and has identified several large structural traps with three- and four-way closure."
A company developing a salt cavern gas storage project in the prospect area encountered natural gas shows during the permitting and development process for the project.
To test the basin, an initial vertical well, the Woodburn Forest-1, is permitted and scheduled to commence drilling in 2H 2016, with a planned depth of approximately 6,000 feet. The goal is to test the entire sequence of petroleum objectives, including the Carboniferous source rock. The gas storage company announced last week that wellsite construction had commenced for the Woodburn Forest-1 well, with drilling expected to commence in May 2016.
After the test well is drilled, 3D seismic will be acquired over select areas of the license, according to Petro River's management team.
A third-party report has assigned P50 prospective resources of 25 MMBO in the Triassic and Permian sandstones within the Woodburn Forest prospect, based on 2011 and 2012 seismic data. According to Petro River, the 2D seismic has identified six more prospects of comparable size.
The region has been a focus of exploration projects of late. For example, Exxon Mobil (NYSE:XOM) and Statoil (NYSE:STO) were both awarded licensing options in the Irish offshore, following the conclusion of the first phase of awards in the 2015 Atlantic Margin Licensing Round.
Other Upcoming Catalysts
Nasdaq Uplisting: Petro River is actively pursuing conditional approval to uplist to the Nasdaq from the OTC Market Exchange.
In the back half of 2016, the company expects to start phase one drilling at Grapevine and Kern County in California, as well as start development drilling at Pearsonia West, based on seismically identified targets.
What to Do?
As with any micro-cap company, Petro River must execute on stated goals and objectives in order to build trust within the investment community. The company has an ample cash position, a fully funded 2016 drilling program and has started to gain attention from interested investors. If the exploration well in the Larne Basin of Ireland is successful, it will be a real needle mover for the stock. If it's not, while it will be disappointing, the company has various other conventional, low-risk development assets that can add material production and reserves to the story and provide a base for future exploration efforts.
Disclosure: I/we have no positions in any stocks mentioned, and no plans to initiate any positions within the next 72 hours.
Business relationship disclosure: Oil & Gas 360® did not receive compensation for the publishing of this company note. Although Petro River pays Oil & Gas 360® a monthly fee to be a profiled company on the website, Oil & Gas 360® reserves the right to publish notes and observations on any company that is sees fit to distribute.
Editor's Note: This article discusses one or more securities that do not trade on a major U.S. exchange. Please be aware of the risks associated with these stocks.
0 views