Summary
WTI crude oil prices peaked at $105 per barrel in June 2014 and fell to a low of $37.65 on Dec. 7, 2015 (down more than 64% of its price).
Overproduction, high inventories, Saudi Arabia's battle with U.S, shale oil producers and with Iran, and OPEC's failure as an institution are the main causes.
However, many indicators are showing that the oversupply glut might be over sooner than everyone is thinking.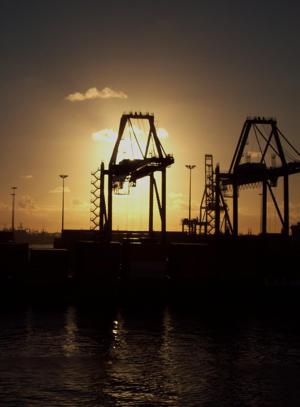 WTI, the West Texas Intermediate benchmark for U.S. crude CLc1, settled down $2.32 at $37.65 a barrel, shedding 5.8% in a single day. That was its lowest settlement since February 2009, and after with a session low of $37.50.
There are several reasons for the free fall in the commodity:
Oil overproduction, mainly coming from North America and the Middle East, created a glut in supplies, sending oil inventories to their highest point in a decade.
Saudi Arabia's battle against U.S. shale oil producers, and against its arch rival Iran, keeps the Kingdom pumping at unprecedented levels.
OPEC 's failure last week to reach any agreement to cut oil production.
Worries about slowing growth in China and other emerging markets.
Iran oil hitting the markets soon, following the lifting of sanctions.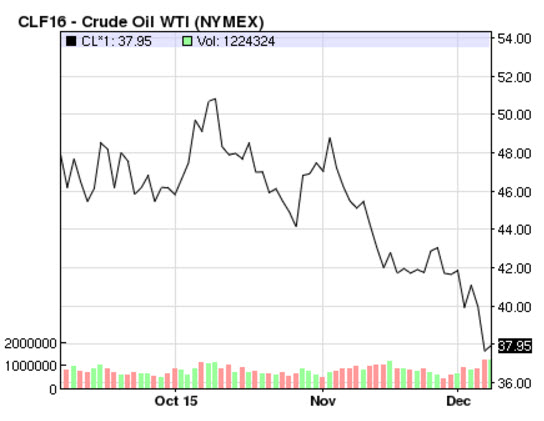 Source: Nasdaq.com.
Acute Slump in Oil and Gas Investments
The world is experiencing an acute investment slump in oil and gas, which will lead to tight supplies. Global investment in exploration and production has fallen from $700 billion last year to $550 billion in 2015. With U.S. crude prices below $40 per barrel, production investments are poised to sink further and faster in 2016.
The impact of a sharp drop in oil production is already clear through bothBaker Hughes' weekly rig count (reported each Friday), and the EIA Petroleum Status Report (reported each Wednesday). The weekly drop in the oil rig count as U.S. and world oil is accelerating. Just last week, U.S. oil rigs fell about 1% in a single week (they fell by seven to a total of 737 rigs) and by a staggering 62% during the last year (they fell by 1,183 to a total of 737 rigs). This is the third consecutive week of decline. The drop in international rigs (other than the North American oil rig count) was over 16% during the past year only, while the Canadian oil rig count fell by over 58% during the same period.


Although oil production in the U.S. failed this year to keep up with the pace of oil rig count decline due to increased productivity on existing rigs, this comes at a high cost. Higher production on the same rig implies quicker decline rates for these oil wells, which ends up significantly reducing their life span. Unlike conventional projects, shale wells have an extremely short life, as more than 50% of the oil is depleted within the first year. So there is a lag-time effect until a production decline is felt in the market.Lower oil rigs means lower oil production: The EIA reports that U.S. shale output declines are projected to account for 500,000 barrels per day (or 5.3% decline). The total drop in non-OPEC production is expected by at least 300,000 barrels per day in 2016. Non-OPEC production will record its highest decline in more than two decades. The pace of inventory builds is expected to start slowing in the fourth quarter to roughly 1.2 million barrels per day. In 2016, inventory builds are expected to slow further to an average of 0.4 million barrel per day.
Large deficits by major integrated oil companies, after capital expenditures and dividend payments, as well as independent U.S. producers, reached a combined $100 billion. The Wall Street Journal reported that four oil majors — BP (NYSE:BP), Royal Dutch Shell (NYSE:RDS.A), Exxon (NYSE:XOM), and Chevron (NYSE:CVX) — have a combined cash flow deficit of $20 billion for the first half of 2015. That leaves producers with little money to spend on reinvestment, which will further drag down production. Once the oil wells dry out, it will take a considerable amount of time to ramp up new drilling after a long period of decline.
Taking into account all of the above factors, I expect acceleration in oil production to drop in the next few months as existing wells are being exhausted and the number of total wells is rapidly declining.
Demand Growth: Main Driver of Higher Oil Prices
Even with the Chinese slowdown, global demand surged to a five-year high of 1.8 mb/day in 2015. The growth forecast is expected at 1.2 mb/day in 2016 onward, as per an EIA report from November 2015.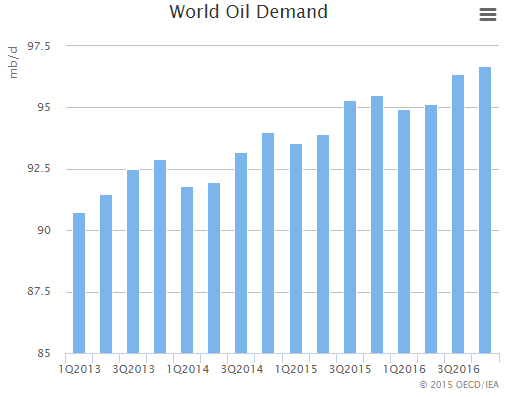 It's simple mathematics: With demand going up next year at 1.2 million barrels a day, together with non-OPEC oil declines of at least 300,000 barrels a day, there will be enough room for the Iranian oil to be absorbed. Iran is expected to hit the market with 1 million barrels per day.
Crude Oil Recovery Might Come Faster Than Anticipated
CIBC World Markets Economist Nick Exarhos notes that in the details of production data, he found a dynamic that could support crude prices next year (see "The Crude Glut Might Be Cured Faster Than You Think"). The following is a chart depicting the EIA world liquid fuels supply and demand: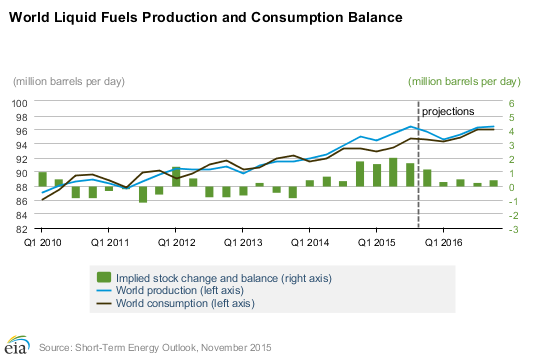 Prepare for a Magnificent Short Squeeze to Come
The commodity market is a forward-thinking institution. Once it starts to digest all the above factors, oil and gas prices will have to recover quickly. In the meantime, prepare to profit from a magnificent short squeeze in crude oil and natural gas by making a shopping list of the integrated oil companies and midstream Master Limited Partnerships.
0 views